[vc_row][vc_column][vc_column_text]
Royal Worcester Bone China Pin Dishes – 1965
In 1965, Kay & Co Ltd commissioned a production run of Royal Worcester "round ashtrays" (or RATS, as they were known to the Royal Worcester staff).  The trays were made of "Fine Bone China" and were fully marked as Royal Worcester pieces.  The original artwork still exists in the Museum of Royal Worcester.
It is understood that over 100,000 sets of these dishes were produced for the company.  They were presented as a goodwill gesture to Kays agents, customers and, occasionally, staff.  The office of the Chairman was responsible for their distribution and personal letters from the Chairman often accompanied the dishes thanking the agent or customer for their efforts.
The "pin dishes" or "pin trays", as they are now known, are approximately 4 inches in diameter and are edged in gold.  A set comprises of two dishes, each with a scene of Worcester that was especially drawn for the commission by Royal Worcester artists.  They were always sent out in presentation boxes, which could be coloured either green or in later years, blue and marked as "Royal Worcester".
One scene depicts the cathedral at Worcester, as viewed from the western bank of the River Severn.   The other scene is of the Edgar Tower that guards, to this day, the entrance to the cathedral precincts.
[/vc_column_text][vc_column_text]
Queen Elizabeth II Silver Jubilee Dish – 1977
In the year of the Her Majesty, The Queen's Silver Jubilee, 1977, Kays commissioned a pin dish from the Royal Staffordshire china factories and sent these out to its agents as mementos of the historic year.  Although no records have yet been found to confirm the total production run, there must have been many tens of thousands produced. The dish is approximately 12 cms in diameter and has a distinctive scalloped edge with gold trim.  The dishes were accompanied by a silver-coloured note of thanks within the presentation case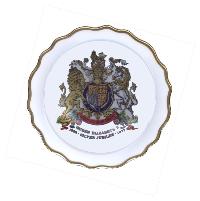 [/vc_column_text][/vc_column][/vc_row]